Organizing Your Office In Three Easy Steps
Organizing your office improves your creativity and effectiveness with anything you want to do.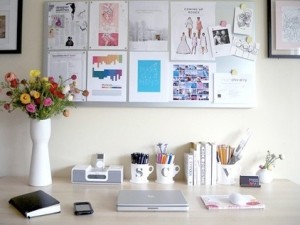 It doesn't matter if your space is used to pay bills, return e-mails or let your creative juices flow , organizing information and stationary helps with those Aha moments and gets you into flow.
If you have a project you would like to start or finish, want to catch up on those pesky to do's clearing a workspace can be the best energizer around. Taking action connects you to your creativity and those inspiring "Aha" moments. A super quick organizing renovation can clear out the clutter and the mind fog to bring new energy into your office and your head.
Here are three quick organizing tips when you want to renovate and refresh your mind, energy and office space.
Always clear obvious clutter from your workspace. Take a garbage bag and dump the broken pencils, old post it notes and any item that does need to go.. Don't make your desk a paper graveyard and dumping ground for redundant items.
Make your space super comfortable. Add a comfortable chair and a good light. Put paper clips, pens and pencils where you can easily use them. Add a small shelf resources and my notebooks. Add what you need to make you want to live in this space.
Style your space. What will support your creativity. Vision boards, cork boards, coloured pencils and pens, lovely paper all add zip and zing. What colors will suit this space. What will inspire you. Add artwork you love, quotes and inspiring sayings, favourite books. How can you put things together so you will love the way your work space looks.
These three simple actions organize and style your office so it is a comfortable place to be in and get your work done.