How To Organize Your Closet
Are your closet organizing ideas elusive?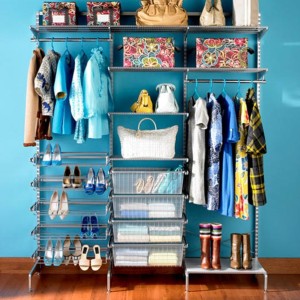 Organizing a closet that has years of clothing history and is stuffed to the brim can be so confusing even the most valiant effort can fail.
So what does it take to sort out and organize your closet so you can keep it that way?
WHERE TO START?
So where to start, how to do this?
Declutter your closet before you organize. Have a think about what you wear most often, what you never wear and what new clutter free standards you can adopt for keeping or letting go of clothes.
CLUTTER-FREE STANDARDS FOR LETTING GO OF CLOTHING
Too big or too small
Isn't comfortable
Wrong color
No intention of repairing or altering it
You haven't worn it in a year
Bad associations
No longer suits your lifestyle
KEEP CLOTHING IF IT IS
Right size, fits well and looks good
Comfortable
Right color
An attractive style, meaning shape, color and neckline
You wear seasonally
In good condition
Doesn't need altering or repairs
To make this process easier use two large garbage bags, one for clothing that needs to be tossed and one for clothing in good condition.
Streamlining your wardrobe saves time and keeps money in your pocket. By adopting a clutter free clothing attitude you focus on the best clothing choices and eliminate the second best or compromising clothing buys.
You can choose to avoid clothing that needs dry cleaning, hand washing or extra care saving time and money.
Designer clothes can be resold at second hand clothing stores and by making a list of sale times at your favorite stores you can buy the clothes you love at a discounted price.
AS YOU DECLUTTER YOU CAN BEGIN TO ORGANIZE YOUR CLOSET
A quick and easy organizing key is to simply place similar items together in categories.
Take a few minutes to hang blouses with blouses, skirts with skirts and continue with every item you own. This lets you see in an instant where every item is making it quick and easy to hang clothing back up. Use wooden hangers for easier visibility and wrinkle free space plus less frequently worn clothes and shoes can be containerized with labels.
CLOSET SPACE SAVERS
Remember we use 20% of our wardrobe 80% of the time. Are there any more clothes that can go?
Here are some space saving ideas:
Add another rod hang shorter items on the bottom and longer items on the top
Use metal hangers with multiple clips for hanging skirts or trousers
Hooks on doors
Tie racks
START TO THINK IN CATEGORIES AND MAKE A LIST
What do you need to get rid of, keep or acquire to look your best when you relax, have fun, go to work or exercise. What is your dream wardrobe wish list?
Good closet solutions keep generating good closet organization ideas as well as creating a sense of satisfaction. So keep imagining your dream closet with the clothes you would love to wear.
Create a closet that makes you feel prosperous, abundant, and stylish. Make your clutter free organized closet reflect who you truly want to be. A great closet with clothes you love makes every day a beautiful day. So I challenge you to make every time you open your closet a wonderful moment in your day.