The Power Of Letting Go
Declutter your home and declutter your life to experience the power of letting go.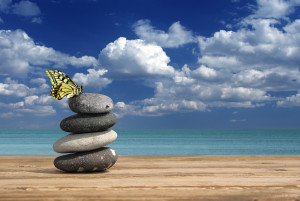 Getting clutter out of your life on any level can often mean a lot more than just getting rid of some things you no longer need.
Letting go of clutter can also symbolize letting go of thought patterns, habits, stale ideas and attitudes that don't provide the energy and inspiration to take you where you want to go.
This is the beauty of becoming clutter free and the power of letting go. Creating small clutter free changes in your home make small shifts in your perception, attitude, creativity and energy. This is a powerful start to taking any goal or ambition to a new level as well as attracting what you need to create success.
Here are four ways letting go of clutter can shift thought patterns, perceptions, ideas and attitudes that may be holding you back and keeping your stuck.
Letting go gets you to rethink your why and how of what you have in your life. Getting rid of old clothing lets you update your look and add clothing you love.
Letting go of old books lets you add the literature you want to read now. Reducing kitchen clutter gives you back extra time every day to spend on what you would love to do. Getting rid of clutter lets you release the past and shift your attention to what you want to accomplish today.
Letting go clarifies what you love. This brings to the surface the excuses for keeping items that actually weigh you down. Letting go of what you no longer like or love to look at or use and adding more of what you love creates a domino effect in your life which can create the ideas, energy and the purpose to fulfill long desired wishes and dreams.
Letting go centres your attention on the possibilities. This gives you a perceptual shift that can move you through blocks in other areas of your life. A cluttered office space that is decluttered and organized can inspire the clarity and creativity to create more income, give you the opportunity to network and expand business as well as organize files, finances and add elements that inspire you. Clearing clutter shifts energy and unburdens your mind creating a positive mind set that lets you begin to see the opportunities and possibilities that you hadn't seen before.
Letting go enhances creativity. Decluttering and organizing a craft room can provide the motivation to finish old projects and generate ideas for new ones. A clutter free kitchen where the workload is streamlined provides the incentive to creative meals and dinner setting which the entire family an enjoy. A clutter free desk invites you to write, draw or get things done and a bedroom that is clutter free creates a restful calm atmosphere.
Experience how letting go of clutter can shift thought patterns, habits and stale ideas that may be holding you back from what you want to create in life. Letting go of clutter in your home makes you feel better and creates a positive mind set that lets you opportunities and possibilities in your life now.