The Small Things Really Matter
When it comes to home organizing it's the small things that really add to the chaos.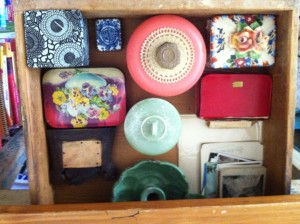 Small items scattered everywhere means possessions don't have a home.
This often quickly build up into serious disorganized piles of clutter making it impossible to find those little things when you really need them.
Two main keys to organizing small things is to choose designated places for small items and containerize like with like. With these two concepts in mind here are some proven tips and tricks to easily get those little items under control.
Start to think about attractive containers that give clear visible cues to put away when you are organizing your home. Wicker baskets are great for holding magazines, newspapers and toys in your living room or bedroom areas. Smaller plastic containers in white or bright colors are great for grouping makeup and grooming items with most often used items in glass jars for instant visibility. Cupboards and drawer organizers can make a jumbled mess of clothing into a colourful work of art.
Get realistic about the items you use and need to find the most often. This is a priority for creating clear and defined designated places. You may need a key ring or bowl for keys near the door you use the most. Most people find one place to put mail is useful with a rubbish bin nearby for those extra envelopes and advertisements. An inbox for information that can be filed later in the week as well as a file/or inbox for bills, notices or documents that need immediate attention can immediately organize information clutter.
Home organizing means looking at changing the way you arrange the small items to eliminate that clutter feeling and create a feeling of space. Containerizing and grouping similar items together lets you see what you own so you can get rid of multiples of the same thing. Creating designated places allow you to find and put back easily changing the small item chaos into spacious calm.