Using Binders To Win Your Paper Clutter War
I think there are three things most people fear and that is fire, public speaking and clearing up paper clutter.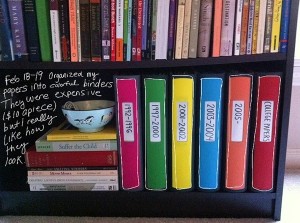 Why do so many people who really want to clear up their paper mess avoid it?
Well, paper clutter is big, can go back years and years and cover a lot of different categories.
It can be tiring do declutter particularly if you do it slowly, have to read every word and reminisce about previous experiences.
What to do about paper clutter
You could just leave it until it eats up most of your office space, closets or whole rooms.
You could separate stuff into a lot of different piles but that would still make it difficult to find things.
Or you could start to project manage your clear up by working on one organizing solution at a time.
Binders can be a great solution
One solution is to use binders for information that is temporarily needed or for the information you need access to.
Before you start to search through drawers, cupboards and piles on chairs and the floor decide what are your binder organizing topics.
What information works well with binders
Current financial information, recipes, a home notebook you can store family information in, craft information and templates and project or resource information that you use are all suitable categories.
Some Binder Organizing Tips
Always buy good quality binders with large rings and enough plastic sleeves for the information you want to keep. Avoid plastic covered binders as they will rip over time and cheap flimsy cardboard binders that sag.
Since this will be a long term organizing solution get the best quality that you can buy.
Don't overfill the binders as the weight will ruin the spine. Start a second binder if necessary.
Make sure you always use the 80/20 rule as you sort your paper
Think and apply the 80/20 rule with every sorting task. Twenty percent of the paper you have you will use eighty percent of the time.
So about eighty percent of the paper information you have you will never use, read or refer to. This can lead to getting rid of filing cabinets and boxes of paper and even dumping huge piles.
So making the decision as to what hits the recycling bin and what gets sorted into binders is really crucial and is a first step before you begin organizing information.
Slice up the task
With any overwhelming task that stops you dead in your tracks the guideline is to slice it down in to smaller manageable tasks. So organizing one binder at a time and one section at a time will keep you focused and on track.
Finish One Project at a time
Don't go decluttering crazy and start five projects at once and end up with paper all over the house. Choose one binder to work on and finish it. If you see paper information relevant to another binder category put it in a box.
How to Use Binders Successfully
Financial Information
I think financial information is best stored with the tax year in mind.
This means that you don't have to go searching elsewhere for any statements for doing your tax. At the end of the tax year all your financial information is in one binder ready for the accountant.
You can make your own categories but some common sub categories for your financial binder can be Electric and Gas Bills, Credit Card or Store bills, Car insurance and payments, House rent or mortgage information and Telephone.
Once you have your categories organized you have your financial information at your fingertips in order.
Recipes
Do you have a habit of printing out recipes or cutting out recipes from the newspaper and putting them in kitchen drawers never to be found again.
Organizing a binder with categories for baking, soups, vegetarian,chicken and meat means you have your favorite recipes at your fingertips.
Have a plastic sleeve at the front to put new recipes and only file them after you have cooked them and you decide to keep them.
Household notebook
A household notebook is a great binder to have. This is where you can keep phone lists, children's school and sport information, grocery lists and more.
It is for all that current paper information your family brings home and you have nowhere to put.
Craft
Craft ideas, templates, purchasing information can all be filed in a binder. It makes it an easy way to keep your craft ideas and patterns in order and easily accessible.
Set aside some time to organize the information you need and watch your paper clutter disappear.